Bart Danko B.SC.(HONS.), M.E.S., J.D.,
Bart was called to the Ontario Bar in 2015 following the successful completion of his articles at Carters. He now practices in corporate and commercial law, anti-terrorism law, real estate law, charity and not-for-profit law, and wills and estates.
Bart obtained his Juris Doctor from Osgoode Hall Law School and a Master of Environmental Studies from York University. Prior to this, he graduated with a Bachelor of Sciences (Honors) in Psychology and Sociology from the University of Toronto, with High Distinction.
While at Osgoode, Bart held positions in the Critical Urban Research Laboratory, the Institute for Research & Innovation in Sustainability, the Environmental Law Society, and the Innocence Project. During this time he worked for the Canadian Forum on Civil Justice alongside a national network of legal practitioners, where he designed and conducted research projects as well as wrote content used to promote access to justice across Canada. He also sat on the Board of Directors for the Canadian Institute for the Administration of Justice, where he founded a workshop to bring together leading Canadian academics and law students to address the "Cost of Evidence." Bart volunteers his time with Peel Regional Police as an Auxiliary Constable as well as through speaking engagements on environmentalism at high schools in the GTA. Bart remains an active proponent of environmentalism in municipal government, with an emphasis on the value of green roof policies.
PRACTICE AREAS:
Corporate and Commercial Law, Anti-terrorism Law, Real Estate, Charity and Not-for-Profit Law, and Wills and Estates.
EDUCATION:
J.D., Osgoode Hall Law School, 2014
M.E.S. Master of Environmental Studies, York University, 2014
B.Sc.(Hons.), University of Toronto, 2006
CALLED TO THE BAR:
Ontario Bar, 2015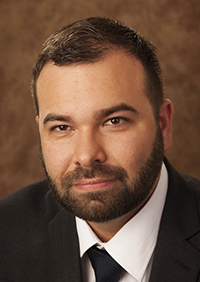 Orangeville Office
Tel: (519) 942-0001 x232
Fax: (519) 942-0300
Email:

bdanko@carters.ca


Toll Free: (877) 942-0001

Meeting Locations
(by appointment)
Toronto (416) 675-3766
Mississauga (905) 306-2791